Sponsor .conf18

.conf18 | 1-4 October 2018 | Walt Disney World Swan and Dolphin Resort | Orlando, FL
In 2017, over 7,000 Splunk data enthusiasts visited the 144,000 square foot source=*Pavilion to get hands-on experience with the latest trending technology across machine learning and data analytics.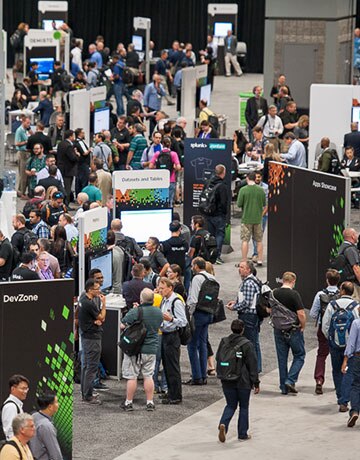 Seventy-one sponsors and exhibitors showcased their ideas, and attendees had the exciting opportunity to network with peers and industry leaders in the .conf2017 partner ecosystem.
This year, we expect over 9,000 attendees, more activations in the source=*Pavilion, and a greater presence from you — our valued partner in the future of data analytics. Attendees include IT professionals working in security, application development and management, operations, big data, cloud, SaaS, business and web analytics and more. By detailing your partnership and technology integrations with Splunk, you'll boost your presence (and Splunk ninja cred) at our biggest event of the year.
For information about sponsorship and exhibitor packages, please contact Eric Joseph at splunksponsorship@splunk.com.
Contact us for more information about sponsorship and exhibitor packages »