Splunk .conf18 Keynotes

.conf18 | 1-4 October 2018 | Walt Disney World Swan and Dolphin Resort | Orlando, FL
Our keynotes are a surefire way to get a sneak peek into new Splunk products and be inspired by exciting trends in technology. If you didn't get a chance to experience them in person, be sure to watch our keynote replays below.
DAY ONE
Visionary and Roadmap Keynote
ESPN Arena | 9:00 am - 10:30 am | Tuesday, October 2, 2018
Doug Merritt,
President and Chief Executive Officer, Splunk Inc.
Tim Tully,
Senior Vice President, Chief Technology Officer, Splunk Inc.
Customer success is at the heart of everything we do at Splunk. We help empower data-driven business transformation at the world's largest companies, and help build the skills and careers of our passionate community advocates in SOCs, NOCs and datacenters around the world. Sit back and listen as Splunk leaders and customers take the stage to show how Splunk turns machine data into the answers organizations need to reimagine IT, security, the Internet of Things (IoT) and business analytics.
DAY TWO
Product and Technology Keynote
ESPN Arena | 9:00 am - 10:30 am | Wednesday, October 3, 2018


The explosion of machine data presents a massive opportunity for companies to leverage data to meet and exceed the ever-increasing expectations of their customers and stakeholders. Find out what's new, emerging and transformative across the Splunk platform, and discover solutions needed to thrive in a digital marketplace.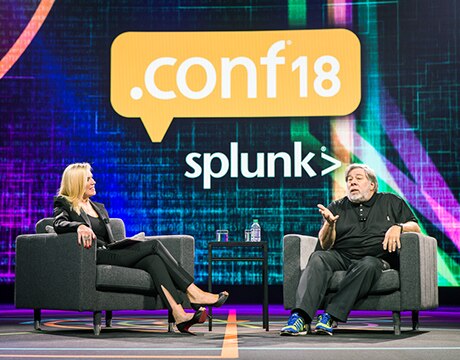 Day Three
Guest Keynote
ESPN Arena | 9:00 am - 10:00 am | Thursday, October 4, 2018
Steve Wozniak,
Founder, Chairman and CEO, Wheels of Zeus Co-Founder, Apple Computer
Our day three keynote will feature special guest Steve Wozniak, Silicon Valley icon and philanthropist, who's helped shape the computing industry with his design of Apple's first line of products. Wozniak will engage in a lively Q&A in front of an at-capacity crowd, which will include questions from .conf18 attendees. You won't want to miss it!
Super Sessions
Shortly after Doug Merritt's Welcome Keynote at .conf18, Splunk market leaders in Security, IT Operations and IoT shared their product roadmap vision. Rick Fitz, SVP of IT Markets, talked about new Splunk solutions that ensure both IT and the business can make real-time decisions with context to stay increasingly competitive and meet ever-increasing customer demands. Haiyan Song, SVP & GM of Security Markets, shared the motivations and innovations driving Splunk's security portfolio. And Ammar Maraqa, SVP, Strategy and Business Operations, discussed the impact of the convergence of IT/OT/IoT in a world where old issues are being met with new data-driven analytics.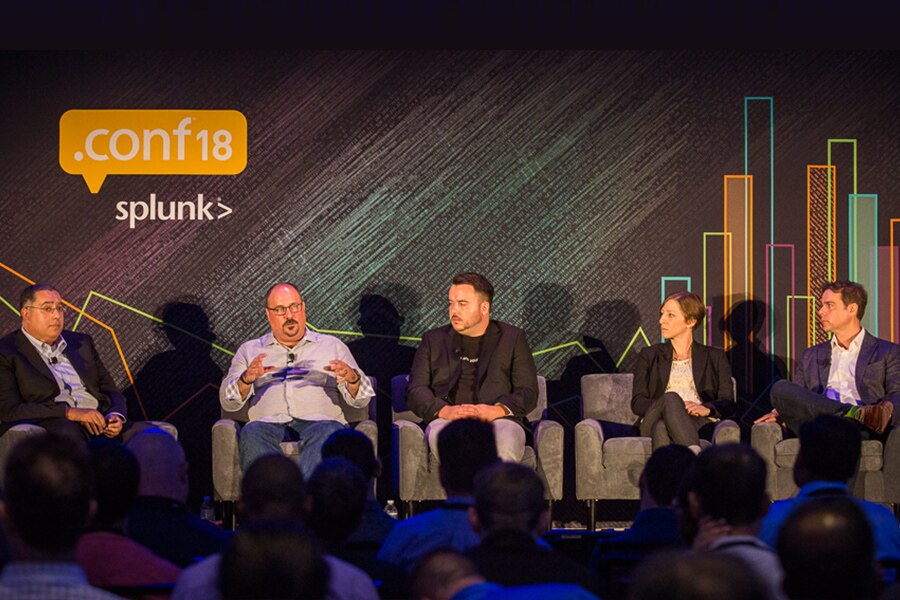 IoT Super Session with Ammar Maraqa:
IT, OT and IoT - The Trifecta Convergence and its Impact on Operations and Industrial Security